Series 3: Retreats
Retreats offer the opportunity for leaders and staff to immerse fully in a process to activate success strategies and new behaviours.
Retreats offer the opportunity for leaders and staff to immerse fully in a process to activate success strategies and new behaviours.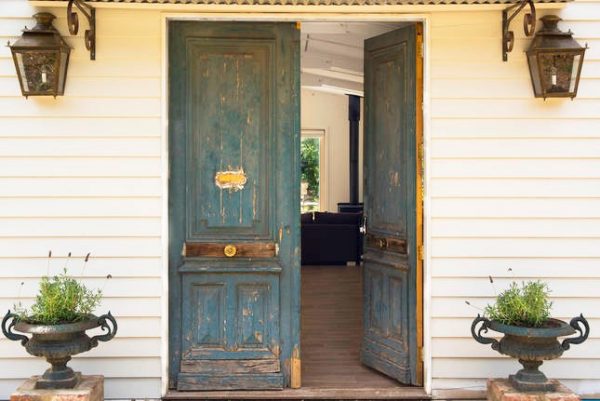 Executive Wellbeing's
"Elevate You RETREAT"
TRENTHAM, VIC  14, 15, 16 OCTOBER 2022
Facilitated by Januta Ribinskas – Corporate Performance Coach
Nurtue your body, inspire your mind and awaken your intuition with 3 days, 2 nights of Mindfulness Practices, Goal Setting and Integrative Mapping, Nature Walking with the art of Japanese "Shinrin Yoku", Yoga, Meditation and Delicious healthy food.
You'll have time and space in a beautiful location in Spring to focus on your wellbeing, positive practices and reconnect to yourself. You'll return home reset and refreshed with a "tool Kit" to create an inspired future.
ACCOMODATION
Casa & Co
Two nights escape in a stylishly appointed light filled country estate with elegantly furnished private single room, or twin share rooms with comfy beds and beautiful linen. Set on a gorgeous property with landscaped gardens, you'll enjoy open fireplaces, and a spacious yoga studio surrounded by lush foliage and its own fireplace or cooling if required.
Casa & Co recognises the historical and cultural significance of Australia's Indigenous history. Each day in Australia we all walk on traditional Indigenous land. Their houses are on the incredibly beautiful land of the Dja Dja Wurrung people. We acknowledge that they are the traditional custodians of the land and pay respect to their Elders and people past present and emerging.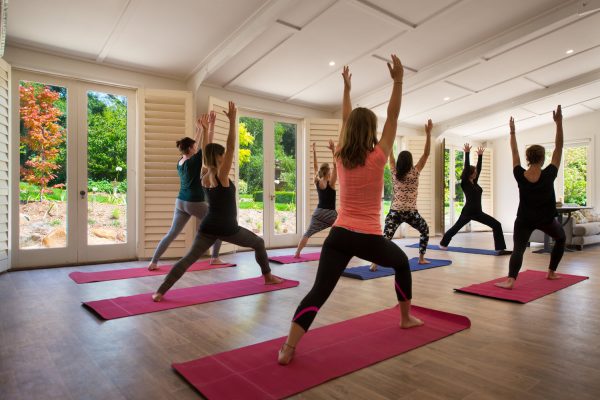 MEALS
By Local Catering
Delicious healthy and seasonal meals catered by local chef and former restaurateur. Menu designed according to your dietary requirements.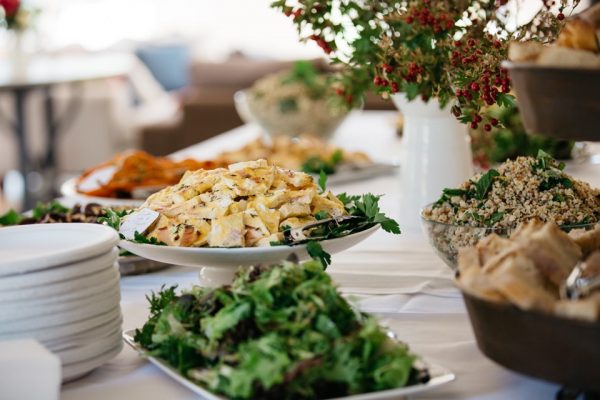 THE RETREAT PROGRAM & YOGA
Elevate You, and reset your future vison and activate your positive health, mind, emotional intelligence and Intuition through evidence based, Mindfulness "Shinrin Yoko" Walks, Meditation, "The Knowing Flow" Vinyasa Yoga Sequences, Breath Work and Integrative Mapping and Goal Setting techniques
This is Suitable for beginners and experienced participants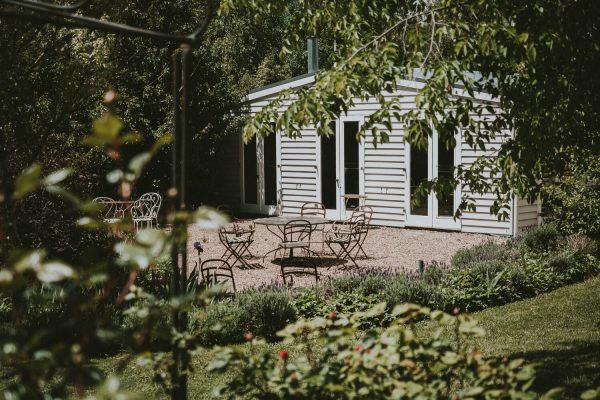 RETREAT SCHEDULE
FRIDAY AFTERNOON
Arriving at 4pm to a light afternoon tea, you'll settle in unwind and take in. the serenity of nature and the sanctuary around you
FRIDAY EVENING
Your first yoga practice together in the cosy light filled studio surrounded by lush greenery. The yoga practice will prepare you for the first Integrative Mapping exercise a beautiful dinner and a peaceful night rest.
SATURDAY MORNING
Will begin with the peaceful spring sounds and delights of nature, coffee or beverage and a restorative meditation practice, then an energising   "The knowing flow" vinyasa sequence.  You'll next enjoy a selection of food at brunch, to nourish you for the rest of the afternoon before our "Shinrin Yoko" walk taking in the good and beauty of what nature offers
SATURDAY AFTERNOON
After your walk you'll immerse in the next part of the integrative mapping and Goal setting techniques. Then you'll be free for about 3 hours to spend the time reading or take a nap or , exploring Trentham Village. Stroll through the local shops or book yourself a massage.
SATURDAY EVENING
Around 6.00pm we will regroup for an intuitive mindfulness practice and the evening will be completed by a delicious 3 course dinner.
SUNDAY
After coffee /beverages we will meditate and experience final yoga practice and brunch together.
The rest of the day can be spent exploring Trentham or in the Wombat State Forest, or the picturesque Trentham Falls the Spa country of Daylesford (20 min drive away).
FREQUENTLY ASKED QUESTIONS & BOOKINGS
CAN I COME ALONE?
Accommodation is twin share unless you book a private room . This weekend you can be as social or solitary as you wish.
DO I NEED ANY EXPERIENCE TO JOIN?
All yoga and meditation practices will be suitable for all levels – beginner to experienced. Januta will chat with you privately before the retreat to explore what you are wanting from this retreat, to cater to any injuries and what you are hoping to experience from your yoga practice.
You are always welcome to skip a practice to sleep in or go for a walk.
WHO IS THIS RETREAT FOR?
This retreat is for anyone who wants to reset their Vision for the future through Goal Setting and Integrative Mapping, explore or extend their Yoga and mindfulness practices to improve their health focus, reset, de-stress, connect to themselves or others, and to nurture themselves.
QUESTIONS & BOOKINGS
INVESTMENT
includes accommodation, tuition, materials  and meals
Per person twin share $1200
Private Room $1495 (one person)
*50% non-refundable deposit to secure your booking. Final Payment is due in full by 19th of Aug 2022
Places are limited so please reserve quickly.
Payment Methods include:
Over the phone via credit card
Or
Direct into the Executive Wellbeing account
Details will be provided on request
Only in the event we need to reschedule due to COVID 19, lockdown a new date will be set. If you're unable to make the new date, or other  Executive Wellbeing one on one or group sessions or coaching , you'll be issued with a  50% refund
​Please email info@executivewellbeing.net.au or Januta on 0412183379 with any questions and to book.
TERMS & CONDITIONS
Thank you for your interest in Executive Wellbeing Retreat, Trentham `14-16 October 2022.
Bookings are secured with a non-refundable 50 per cent deposit. Once you have booked and paid your deposit, a form will be sent to you to complete and Januta will contact you to discuss dietary requirements, room preferences and your yoga practice.
CANCELLATION POLICY
Full payment is required by 19th of August 2022.
Cancellations after booking will forfeit the deposit.
Bookings made after 19th of August 2022 are required to be paid in full.
COVID PRECAUTIONS
For everyone's protection, it is requested that all attendees do a Rapid Antigen Test on the day the retreat begins before leaving home.
Those with a positive RAT will be required to isolate and will be offered a place at the next Executive Wellbeing Retreat. If that date is unsuitable then a 50 per cent refund will be issued. Unless a replacement participant is found.
Januta's BIO
Januta is an Author, , Thought Leader, Corporate Performance Coach with over 30 years' experience in the health and wellbeing industry and as a senior human resource professional. She is the founder of Executive Wellbeing Pty Ltd "Her extensive eastern and western science-based training, as well as her senior-level human resources consulting experience, forms the foundation of the Master Class Series – a series of personal development workshops and international retreats. She is also a yoga teacher and the creator of "The Knowing Flow", Vinyasa Yoga series and the renowned Transformational Breathing activation program.
She features regularly in the media and as a keynote speaker for events and writer for health and lifestyle publications
My intention is to share knowledge and techniques aimed to allow "You to Elevate You" and experience new skills, and awareness to assist in creating a happy, healthy, balanced life incorporating, and flowing into your career, all relationships and personal life experiences.
With you improving your life and it also collectively adds to a more peaceful positive, humankind and planet.
Mindfulness RETREAT
MAURITIUS: 21-27 JULY 2023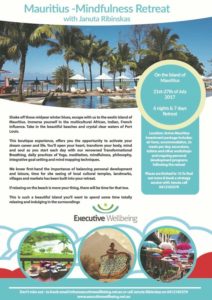 SRI LANKA: 3-11 NOVEMBER 2023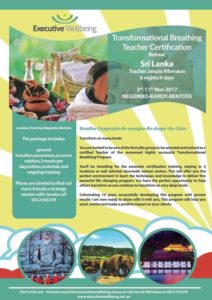 TRANSFORMATIONAL BREATHING TEACHER CERTIFICATION
Follow-on programs allow for success and return on investment.
Planning a measurable corporate success strategy after a retreat or workshop is essential to maximise the benefits of new information and techniques learned to experience true cultural change.
Happy, healthy leaders and staff equate to profit and success. Executive Wellbeing has the experience and proven results over many years to add value to your business success.
.
Executive Wellbeing Women's Retreats India & Portsea