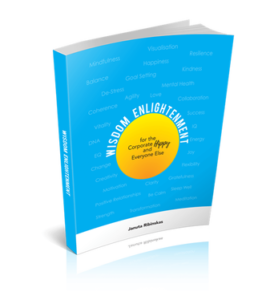 Author
Click here to buy your copy of Wisdom Enlightenment
Wisdom Enlightenment For The Corporate Hippy And Everyone Else
Imagine living life with minimal stress and no anxiety. How great would your life be with abundant energy, less sickness, free of worry about past and future career moves, easily navigating challenging relationships, and free of unhealthy lifestyle choices?
It's possible to experience this and more.
You can gain calmness, clarity of thought, positive health, happiness, and the ability to create your dream career, relationships, and life.
This book shows you how.
"Wisdom Enlightenment" for the Corporate Hippy and Everyone Else delivers a proven "tool kit" of empowering knowledge along with practical skills. You'll discover how your body, mind, soul, and energy systems are intrinsically connected and how ancient wisdom & modern science come together.
You'll learn how to activate positive health, resilience, an agile mind, calmness, creativity, intuition, happiness and to live life from the inside out. In no time, you'll be exceeding your career and personal goals in a satisfying, heartfelt way, whilst making a positive contribution to the planet
About The Author
Januta Ribinskas
Januta is a thought leader with over 25 years' experience in the health and wellbeing industry and a senior human resources professional. She is the founder of Executive Wellbeing Pty Ltd and the creator of"The Knowing Flow", Vinyasa Yoga series and the renowned Transformational Breathing activation program.
She features regularly in the media and as a keynote speaker for events and writer for health and lifestyle publications. Her extensive eastern and western science-based training, as well as her senior-level human resources consulting experience, forms the foundation of the Master Class Series – a series of personal development workshops and international retreats.